An up close and personal interview with U.S. Police Veteran and Togetherweserved.com Member:



CHF INSP Christopher ClayEdwards (1994-Present)
US Marshals Service

WHAT INFLUENCED YOUR DECISION TO MAKE A CAREER IN LAW ENFORCEMENT?


After I got out of the Army in 1993, I thought about a career in either business or teaching. The business community was not terribly interested in infantry veterans at the time. In fact, the only serious job offer I received was to go to Africa as a mercenary. So I turned to teaching. After a couple of months working in the Tucson Unified School District I decided I wanted to do something safer. So, I went into law enforcement. Law enforcement offered the camaraderie that I had in the military. It was also a job that changed frequently. It was not the same thing day in and day out. That appealed to me.


WHAT WAS YOUR CAREER PATH AND WHAT ARE YOU DOING NOW?

After I got off active duty, I moved to Tucson, Arizona. I started my law enforcement career with the Immigration and Naturalization Service as a Detention Enforcement Officer. I worked at the Service Processing Center in Florence, Arizona. It was a detention facility where we held illegal aliens pending

Education is the key for upward mobility

deportation. I processed aliens and transported them to the border for deportation. I also worked in the courtroom providing security for the judge. I was also a member of the tactical team (TIAC for tactical intervention and control). I was selected for the United States Border Patrol (class 292). I was halfway through the Border Patrol Academy when the US Marshals offered me a job. It was not a hard decision to make. At that time Border Patrol Agents only went to GS-9 but Deputy US Marshals could go to GS-12. I dropped the Border Patrol Academy went home for a week, and then was right back at FLETC.

After completing my training at FLETC, I was assigned to the Superior Court of the District of Columbia. It is the largest of the district offices for the USMS. I was there for almost thirteen years. I worked court for several years. I was also on the fugitive task force. I ran the juvenile cellblock for six months as well. I finally wound up on the Writ Squad where we served civil orders. Our primary job was doing evictions for the courts. I was in that assignment for about eight years. I did several thousand evictions in that time. Along the way, I made numerous cases for guns and drugs. In 2007, I was promoted to Senior Inspector and assigned as one of the Judicial Security Inspectors for the District Court for Washington DC. There I ran security for most of the federal courts in DC. I worked threat cases as well. When I started it was just two Judicial Security Inspectors but by the time I left it had grown to eight Deputies. In addition to threats and court security, we were working on the Joint Terrorism Task Force as well as the violent crimes task force. In 2010, I was promoted again to Chief Inspector. I was reassigned to USMS headquarters in Alexandria, Virginia. I am in charge of emergency planning and headquarters security. I also work on our badge fraud and abuse team trying to stem the flood of counterfeit US Marshals badges.

DID YOU SERVE IN THE MILITARY PRIOR? AND IF SO, IN WHAT BRANCH OF SERVICE? IN WHAT WAYS HAS MILITARY SERVICE INFLUENCED YOUR CAREER IN LAW ENFORCEMENT?


I served Proudly

I served in the United States Army from 1989 to 1993. I was an infantry officer assigned to the 101st Airborne Division. After I got off active duty I continued to serve in the Army Reserves until 2004. While I was in the reserves I served in a Civil Affairs unit. I deployed to Panama for training and combat tours in Iraq during Operation Desert Storm and Iraqi Freedom. I believe my service in the Army gave me the strength to handle the rigors of a career in law enforcement. It also gave me the self discipline to push forward. One of the most valuable lessons I learned from the military is the importance of professional development. Throughout my career, I have listened to others complain about the lack of training. However, when you asked them what they were doing on their own to further their careers they simply gave you a blank look. The Army taught me that I am responsible for me. That was probably the most important lesson.

WHICH, OF THE AGENCIES OR DEPARTMENTS YOU WERE ASSIGNED TO, DO YOU HAVE THE FONDEST MEMORIES OF AND WHY?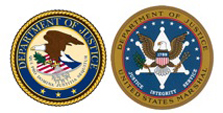 US Marshals Service.

I spent the majority of my career in the US Marshals Service. The majority of my experiences, therefore, were with that agency. Even my worst days, I feel were better than the best day behind a desk. I remember the dark humor that passed among us as we went from one tenement to another. We dealt with people on the worst days of their lives but we were still able to find something to smile about. Throughout my career with the USMS, I have been privileged to work with some of the most professional law enforcement officers ever. I have taken thousands of doors and I can count on one hand the number of fellow Deputy US Marshals I wouldn't trust to go with me. That is a great feeling to know that wherever you go, the people you bet your life on are that well trained and that professional.

FROM YOUR ENTIRE LAW ENFORCEMENT CAREER WHAT PARTICULAR INCIDENT HAD THE BIGGEST IMPACT ON YOU AND WHY?

Several years ago, I was serving a writ to foreclose on a house. I was the team leader for the day. When we arrived at the house, I found it was a halfway house for the mentally ill. The owner of the house had obtained a contract from the city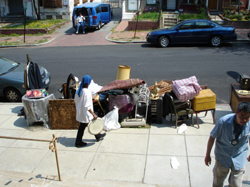 Helping the Needy getting resettled

to take care of several individuals. He was being paid thousands of dollars each month. Instead of paying the mortgage on the house he had been pocketing the money. When we entered the house it was disgusting. The people were living in squalor. The water was off. The toilets were over flowing with feces. There was garbage everywhere. The residents were sleeping in the basement which had a dirt floor. I had been in places that were far worse and since then I have been in places that made this location look downright sanitary. However, these people were incapable of caring for themselves so they could not be held responsible. This individual had simply pocketed taken the money and left them to fend for themselves.

It was both the most helpless I have ever felt as a law enforcement officer and the most professional. I looked for any legal reason to postpone the eviction. There was none. I tried every trick to get the mortgage company to postpone the eviction. They refused. I had no reason not to honor the court's order and put this unfortunate people on the street. I executed the order and removed them from the house. I felt miserable and helpless. I did not become a cop to hurt defenseless people. I was able to get the individuals into a shelter. We called the appropriate agencies to care for the residents. We were also able to have the local department initiate a criminal investigation. We evicted the records right into their hands. I even managed not to take the man who had abused these people out behind the building and beat him senseless. So in the midst of feeling miserable for doing my job I realized that I could separate myself and still function. It was one of those moments of clarity in your career when you suddenly know that you are a good cop despite feeling like a heel.

OF THE MEDALS, AWARDS OR BADGES YOU RECEIVED, WHAT IS THE MOST MEANINGFUL TO YOU AND WHY?

The most important award I ever received was not even an award. About a week after September 11, 2001 my partner and I were working in Northwest Washington DC. We were in a small tenement building and there were three small children playing in a truck. The oldest was probably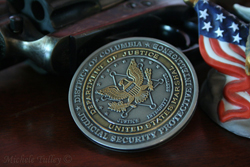 My Department of Justice keepsake.

five or six years old the youngest was not much more than a toddler. They managed to get the truck into gear and it started rolling down the hill into traffic. I tried to open the door but it was locked. So climbed halfway through the window and ripped the door open. I managed to get into the truck and stop it. In doing so I injured my shoulder and my knee.

I would spend the next month limping around the office on limited duty. My partner wrote a memo to our bosses recommending me for an award. They never did anything about it but the fact that my partner thought so highly of me meant more than any plaque or certificate. Know that I had the respect of a man I respected is more important. After all, if we cannot earn the respect of the men and women we work with how can hope to hold the respect of the people we came into contact with on a daily basis?

WHICH INDIVIDUAL PERSON FROM YOUR CAREER MADE THE MOST POSITIVE INFLUENCE ON YOU AND WHY?

I have been fortunate to work with some very great people over the years but the one who has had the most impact on my career is Chief Deputy US Marshal Ed Sloane. He took over as our Chief when I had been in my assignment for just a few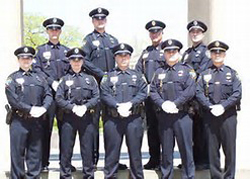 Team members had positve influences

weeks. After a particular incident, I earned his trust. After that he assigned me tasks that required more and more responsibility. These led to greater exposure within the agency which in turn led to my next promotion. What is most important is that as our headquarters began asking me to participate in more and more special assignments he said yes. When I said I was not the right person he pushed me out front. When the time came, more quickly than I thought it would, for me to compete for my next promotion he encouraged me to apply for the job. Even though it left him shorthanded and with an inexperienced replacement, he was genuinely pleased when I was given the new position. It is very uncommon to find a boss who puts the careers of his subordinates before his own.

CAN YOU RECOUNT A PARTICULAR INCIDENT FROM YOUR CAREER THAT WAS FUNNY AT THE TIME AND STILL MAKES YOU LAUGH?

We were searching an apartment in Washington DC and I found a box that was slightly larger than a shoe box. I opened it expecting to find guns or drugs. Instead, I found a human skeleton complete with skull. Inside the box was a tag that read "Property of Howard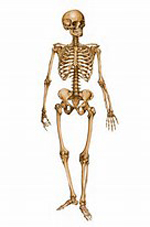 I earned my Bones.

University". We had discovered a skeleton from the anatomy lab which had been stolen. Our policy was to take recovered stolen property to the local police department and place it on their property book. We drove to the local station house and I walked in with the box under one arm and the skull under my coat. When the Desk Sergeant asked what we needed I set the box down and said I had something to put on the book. When she asked what it was I pulled the skull out and set on the box and said "Fred". She screamed and then yelled at me to get it out of her station. Then everyone started laughing. It is still one of the funniest things that happened in my career.

WHAT DO YOU CONSIDER THE MOST IMPORTANT LESSON YOU HAVE LEARNED AS A LAW ENFORCEMENT OFFICER?


The most important lesson that I learned in my career is that reputation and integrity are everything. There is no case worth shading the truth for. No criminal so bad that you can lie to take them off the street. If you give up your integrity and lose your reputation for being honest you might as well hang up your badge and gun. You have no future left in law enforcement



WHAT LAW ENFORCEMENT ASSOCIATIONS ARE YOU A MEMBER OF, IF ANY? WHAT SPECIFIC BENEFITS DO YOU DERIVE FROM YOUR MEMBERSHIP(S)?


I belong to Several Organziations.

I am a member of the Federal Law Enforcement Officers Association. They represent federal law enforcement officers to the agencies as well as Congress. They make sure that the people who make our policy and our budgets hear our side of the stories. They also provide legal representation for members who need it. Over the years, I have been fortunate not to need their services all that often but it is nice to know they are there. Being a member of the union or a professional organization is a lot like wearing your body armor. Most of your career you will never need it. However, when you do you need it then.

HOW HAS SERVING AS A LAW ENFORCEMENT OFFICER INFLUENCED THE WAY YOU CONDUCT YOUR PERSONAL LIFE AND YOUR RELATIONSHIPS WITH OTHERS OUTSIDE OF THE DEPARTMENT?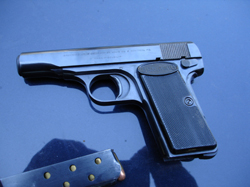 One more tool of my Trade.

Being a law enforcement officer is a lifestyle unto itself. I spend my life watching everyone around me. I am much more cautious than I was before becoming a cop. I am also very protective my family. Once you know the evil that is out there you will always worry.

WHAT ADVICE WOULD YOU HAVE FOR A ROOKIE WHO HAS JUST PUT ON THE BADGE?

Protect your integrity and safeguard your reputation. Love the job; if you don't love it then it is not worth devoting your life to no matter how much you get paid. Remember the job is what allows you to take care of your family. In twenty or thirty years, you will retire and the job will go along without you. Your family will be there forever. Do not sacrifice them to your career.

IN WHAT WAYS DO YOU FEEL THIS WEBSITE CAN BENEFIT THE LAW ENFORCEMENT COMMUNITY?

TWS and Law Enforcement

It is important for us to have a place of our own where we can share with each other. Only brother and sister officers understand what we do and what we sacrifice. It is also important for us to preserve our knowledge for those who come after us. I hope one day that this site will be a resource for newer officers coming on the job.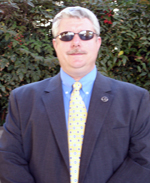 CHF INSP Christopher Clay Edwards
Contact This Member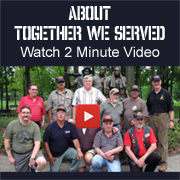 TWS VOICES
TWS Voices are the personal stories of men and women who served in the US Military and convey how serving their Country has made a positive impact on their lives. If you would like to participate in a future edition of Voices, or know someone who might be interested, please contact TWS Voices
HERE
.
---
---
Police.Togetherweserved.com
For all current serving and veteran Police Officers, Together We Served is a secure, feature rich website enabling Officers to reconnect with lost Brothers and Sisters, share in the camaraderie of other Officers, network for professional purposes and to honor the service of all.
To join Police.Togetherweserved.com, please click
HERE
.
---