An up close and personal interview with U.S. Police Veteran and Togetherweserved.com Member:



CPT Tom Owens (RES) (1971-1986)
Mulvane Police Department

WHAT INFLUENCED YOUR DECISION TO MAKE A CAREER IN LAW ENFORCEMENT?

I always wanted to be a cop. From the time I was a small child when asked what I wanted to be when I grew up was always "Cop." In grade school, I was always a member of the school safety patrol and I just knew law enforcement was my calling.

WHAT WAS YOUR CAREER PATH AND WHAT ARE YOU DOING NOW?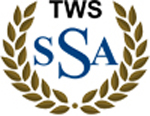 My career path actually chose me. I was one of those cops who could step on a banana peel and not slip and fall. Patrol was my thing. I did a short tour in the juvenile unit and another short time in detectives but patrol was where I spent most of my time.

As a Reserve Unit Captain, I also was responsible for the Internal Affairs functions within the department. Not too many problems on a small department but it saved the Chief some hours of work while allowing him to remain impartial in disciplinary matters.

Since getting out of law enforcement I have been a litigation investigator, dabbled with writing a book or two. I am now retired and enjoying volunteering with Police Together We Served.

DID YOU SERVE IN THE MILITARY PRIOR? AND IF SO, IN WHAT BRANCH OF SERVICE? IN WHAT WAYS HAS MILITARY SERVICE INFLUENCED YOUR CAREER IN LAW ENFORCEMENT?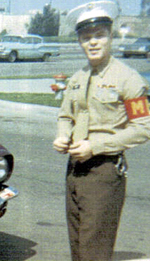 My first exposure to law enforcement came when I was a young Marine. While recovering from a combat wound, I was sent to Okinawa to heal. Upon my arrival there, I was further assigned to the Armed Forces Police (AFP) unit until I returned to Vietnam. Once back in country, I was assigned to the MP company for the 1st Marine Division. When I finally rotated back to the States, I was assigned to the 5th Marine Division MP's at Camp Pendleton, CA.

After a second tour in Vietnam, I returned to the States and was assigned to the MP's at MCAS El Toro until my final discharge from the USMC.

While at El Toro, I applied at the Washington DC PD, Sky Marshalls and LAPD. I was accepted at all three and chose LAPD where I began the Academy two days after my discharge.

WHICH, OF THE AGENCIES OR DEPARTMENTS YOU WERE ASSIGNED TO, DO YOU HAVE THE FONDEST MEMORIES OF AND WHY?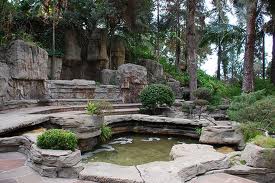 I came from a generation wherein the job was all about the people. My fondest memories involve the people rather than the incidents. The simple things like giving directions to someone who has gone astray or the traffic violator who was actually funnier than me. Certainly, incidents are still with us but the people, well, we still begin our stories by, "I once came upon this guy..."

At the end of the day, you make the drive home knowing that at least on that day, you made a difference. Isn't that a goal we all can share?

FROM YOUR ENTIRE LAW ENFORCEMENT CAREER WHAT PARTICULAR INCIDENT HAD THE BIGGEST IMPACT ON YOU AND WHY?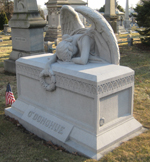 About ten years into my career, while working the graveyard shift, at just about sunrise we (my partner and I ) received a radio call of a major traffic accident on one of the major approaches to LA International Airport. It was a busy intersection, even at that time of day.

On our arrival, we saw that a high speed collision involving a station wagon loaded with a family including three kids occurred. It appeared the station wagon was t-boned by a DUI speeder. Wreckage covered the entire intersection and bodies were thrown out of the vehicle.

Of the three children passengers, all were deceased and two of the three were decapitated. The sight of those lifeless children, in that condition is in my thoughts, frequently. I always believed law enforcement was supposed to be exciting but I never envisioned the broken-heartedness that is also there.

OF THE MEDALS, AWARDS OR BADGES YOU RECEIVED, WHAT IS THE MOST MEANINGFUL TO YOU AND WHY?

LAPD is one of the departments that encourages its' officers to wear their decorations (Federal, State and local) on formal occasions. For decades, LAPD had only one award for officers displaying extreme courage, above and beyond. It's the coveted LAPD Medal of Valor. In the history of the department,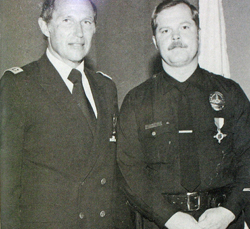 only three hundred or so officers received the award. Of that number, only about five or six received the award two or more times. Significant honor attaches to that award.

In the late 1970's, the LAPD adopted their own awards program. Within that program, eight or nine additional awards became available to officers. Valor awards topped the list. Below the Medal of Valor are the Police Medal for Heroism and below that is the Police Star.

In 1979, I was awarded the Police Medal for Heroism stemming from climbing into an overturned police vehicle, stuck under a burning gasoline fuel tanker and extracting two unconscious officers who were down and unable to assist in extracting themselves. As my partner was working inside the burning vehicle, I fought the fire with an extinguisher, keeping the flames at bay until all three officers were out and free from further danger.

WHICH INDIVIDUAL PERSON FROM YOUR CAREER MADE THE MOST POSITIVE INFLUENCE ON YOU AND WHY?

As a young probie, I gained a reputation as being "salty." While this title usually carries its downsides, I came from a generation wherein training officers (they weren't called that in those days) had 25 years on the job.

Of course, that seniority carries some advantages - like the freebie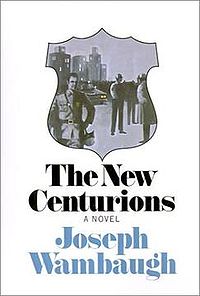 wisecracks from the back of the room during roll call and knowing all the good eating spots. My youngest training officer had 24 years on when I hit the streets. Those old guys could go places and do things that as a newbie, I couldn't do or go. I guess in a way, I was spoiled by these smart old street coppers.

I was one of the fortunate few who trained under really good old cops like Marion Hoover, Harry Lee and Lee Logan. All are legends at the LAPD today but I actually got to work with them. Yeah, I guess I was salty and that salt caused its own set of problems but wow, was I well trained.

Hoover was one of the characters Joe Wambuagh modeled his "New Centurions" after. I can live with the salty reputation.

CAN YOU RECOUNT A PARTICULAR INCIDENT FROM YOUR CAREER THAT WAS FUNNY AT THE TIME AND STILL MAKES YOU LAUGH?

Back in the day, the LAPD choke hold was used far more frequently than it is used today. Verbal judo didn't exist.

I still laugh when I recall the occasion where we came into contact with an angry woman. This woman was large, aggressive and unwilling to chill. Then, she made a step toward me, her arms flailing around like a crazy person.

We were standing on a public sidewalk when I put the bar arm on her. As I lifted her up to cinch the hold, I jerked her right out of her bra. So there I was, on a public sidewalk, holding onto this woman for dear life while tightening the bar arm and her blouse was lifted above her exposed chest area. (Notice how I cleaned that up?)

Naturally, a crowd started to gather and all I could think of was trying to protect her modesty by covering her back up.

Meanwhile,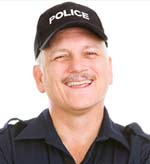 my partner is standing off to the side, nearly falling on the ground laughing so hard at the sight of my chocking this woman while trying to replace her breasts back under her shirt.

At the time, I didn't see the humor in this but later, as it was explained back to me by my partner, I too laughed. (But he didn't have to deal with that woman.)

WHAT DO YOU CONSIDER THE MOST IMPORTANT LESSON YOU HAVE LEARNED AS A LAW ENFORCEMENT OFFICER?

Be constantly alert to your surroundings. Plan several moves ahead and accurately assess your danger potential, then act accordingly. To this day, many years after law enforcement, I still look up when getting out of my car.

Old habits die hard.

HOW HAS SERVING AS A LAW ENFORCEMENT OFFICER INFLUENCED THE WAY YOU CONDUCT YOUR PERSONAL LIFE AND YOUR RELATIONSHIPS WITH OTHERS OUTSIDE OF THE DEPARTMENT?

The ethics I learned as a puppy - honesty, integrity and trusting your sixth sense are still with me. I believe we have choices throughout our professional lives and while the easy decision might make it nicer or easier, the RIGHT decision is always better. It may not be easy but it is right.

WHAT ADVICE WOULD YOU HAVE FOR A ROOKIE WHO HAS JUST PUT ON THE BADGE?

Ask questions. Not only listen to the answers but hear them. Look, here's the truth, there's nothing new in law enforcement and it's not rocket science. Many things I learned 40 years ago still serve me well today.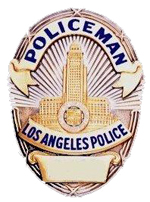 I've had younger, newer officers say to me, "Oh, you're that old guy that used to be a cop" as they sit in the vehicle to talk to someone. Get out of the car where you can see and hear.

The probable cause statements we wrote 35 years ago are still the probable cause statements of today. We can only learn that when we listen to experience.

Don't try to be John Wayne. In most of his movies, he died at the end. Be honest with your partners and fellow officers and don't let the coffee room guys get you down.

IN WHAT WAYS DO YOU FEEL THIS WEBSITE CAN BENEFIT THE LAW ENFORCEMENT COMMUNITY?

Three words: Networking, networking, networking. There are some old salts here who have a lot of experience. Yeah, they may have a grouchy day but they also hold the keys to the castle. Listen to them and learn.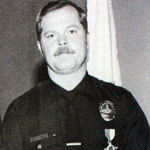 CPT Tom Owens
Contact This Member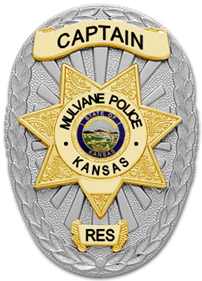 Capt Owens' Police
Badge Display Courtesy of